Introduction
Physical inactivity is a global public health problem.  Promoting an active lifestyle is a simple answer to many of the big health challenges facing our country. "Increasing physical activity has the potential to improve the physical and mental health of the nation, reduce all-cause mortality and improve life expectancy." (Department of Health, 2011)
The largest gains are demonstrated in those who go from doing nothing to doing something and so promoting physical activity can save the NHS money and significantly ease the burden of chronic disease on public services.  It is everyone's responsibility to be creative in encouraging an increase in physical activity at all stages in life.  These can be offered not just by sporting activity but also through a plethora of activities such as active travel, dance, gardening and encouraging use of exercise in a natural environment.
"Around one in two women and a third of men in England are damaging their health through a lack of physical activity." (Public Health England, 2014).  From the Active People Survey in 2015 only 62.7% of male adults met the criteria for weekly physical activity compared to 67% in 2012.  The female rate is also down from 55% to 51.7%. Nottingham is comparable to the national average of 57% with a value of 56.5%.
There continues to be health inequalities nationally and locally.  Inequalities are demonstrated according to income, gender, age, ethnicity and disability.
Physical activity:
is higher in men at all ages
declines with increasing age for both genders and drops significantly for those over 65yrs
levels amongst children tend to drop off with the transition from primary to secondary school, particularly amongst girls.
amongst adults, is lower in Pakistani and Indian adults than the general population
is lower for people who have a long standing illness or disability.
Is lower in low-income household groups than in high-income household groups.
Physical inactivity in England is estimated to cost £7.4 billion a year. This includes both the direct and indirect costs.  The direct cost includes treating major, lifestyle-related diseases such as heart attacks, strokes, diabetes and falls. The indirect cost includes cost of sickness absence and the costs of social care arising from loss of functional capacity. 
Definition of Physical Activity:
 "Any force exerted by skeletal muscle that results in energy expenditure above resting level".
Examples of physical activity include lifestyle activities such as active transport and play, sport and recreational activities, household chores and gardening (Department of Health, 2004).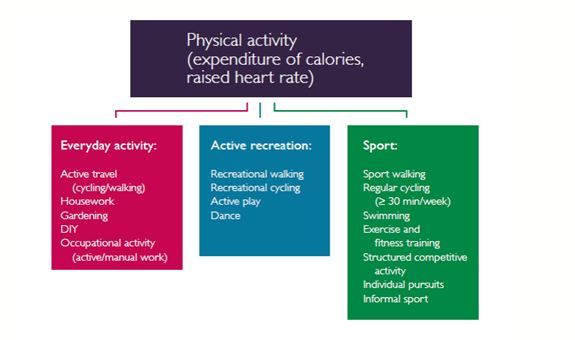 Physical Activity Definition Diagram (Department of Health, 2009)3
Physical inactivity is defined as undertaking less than 30 minutes of physical activity a week.
Sedentary behaviour refers to activities that do not increase energy expenditure substantially above the resting level and includes activities such as sleeping, sitting, lying down, and watching television.
Physical Activity recommendations for health
In July 2011 Start Active, Stay Active: A report on physical activity from the four home countries' Chief Medical Officers was released. This was "A UK-wide document that presents guidelines on the volume, duration, frequency and type of physical activity required across the life-course to achieve general health benefits."  These are simplified for the physical activity levels below.  The full recommendation is in appendix 2 and includes the advice on muscle strengthening, balance and coordination and sedentary behaviour. This standardised the recommendations for physical activity across the UK.
Early years (under 5s)
180 minutes per day spread throughout the day of physical activity
Children and young people (5-18years)
At least 60 minutes per day of moderate to vigorous activity
Adults (19-64years)
150 minutes per week moderate activity or 75 minutes per week of vigorous
Older adults (65+ years)
150 minutes per week moderate activity or 75 minutes per week of vigorous
Further national input with "The All Party Commission on Physical Activity report Tackling Physical Inactivity - A Coordinated Approach" (2014) offered five recommendations:
A national action plan
Getting the message out
Designing physical activity back into our everyday lives
Making physical activity a lifelong habit
Proving success
Everybody active, every day report from October 2014 was further national input produced by Public Health England.
Active society: creating a social movement
Moving professionals: activating networks of expertise
Active environments: creating the right spaces
Moving at scale: scaling up interventions that make us active
Local action, to increase physical activity, in Nottingham has been coordinated with the Nottingham Plan and health and wellbeing boards.  They have recognized that having a healthy and active Nottingham is one of the cornerstones of the "overall strategic direction and long-term vision for the economic, social and environmental wellbeing of Nottingham."
This chapter will look at how these strategies in Nottingham are delivering locally and how we can reverse the trends of increasing inactivity seen across the city.
Unmet needs and gaps
Since the last JSNA in 2012 there has not been a fundamental change in the areas of need in regard to physical activity.  National figures continue to suggest that future planning and commissioning should continue to focus and target those who are most likely to be physically inactive.  Broadly speaking they continue to be:
Women of any age
People >65years of age
The BME community
People living with a long term illness or disability
Those people living in the most deprived areas
Current provision needs to be strengthened for all at risk groups.
Women of any age in Nottingham
This Girl Can has recently started in the Nottingham area but it is too early to assess its success.
People >65 years of age
11.8% of Nottingham population.  This is less that the National average.
Do national statistics match Nottingham statistics in this age group?
In the short to medium term, the City is unlikely to follow the national trend of seeing large increases in the number of people over retirement age, although the number aged 85+ is projected to increase. 
BME community
35% from 2011 which is an increase from 19% in 2001
People from Pakistani and Indian communities have lower physical activity levels than the general population.  Particularly for women. Therefore addressing inequalities in access to physical activity interventions should particularly focus on these groups.
Disability
Pledge of Nottingham Council 2015-2019 to make Nottingham the fastest growing city for disability sport
The same importance should be placed on people with a disability who are looking to access physical activity services and not just those in high level disability sport
Long term conditions
Incorporating physical activity provision in the care pathways for the management of long term conditions
The importance of increased physical activity in pathways involved with population health and wellbeing
Most deprived areas
Have the lowest levels of physical activity and the highest levels of morbidity and mortality.
How do services in these areas correspond to need?
The proportion of participants meeting the current UK guidelines for aerobic activity increased as equivalised household income increased.  Therefore addressing inequalities in access to physical activity and sports clubs should also focus on this.
Other gaps identified
Children and Young People
Children under 5 - the 2011 guidelines were the first to make specific recommendations for children under 5.  The only information on uptake in this group comes from the Health Survey England 2012. 
We have no information of local values from Nottingham for this age group. 
Children 5-18
Nottingham statistics for physical activity, access to school Physical Education and sports participation require updating.
Male participation
Has been shown to be on the decrease from 28% to 21% in children 5-18 (2008-12)
The patterns of physical activity established in childhood continue in to adulthood and inactive men are at a higher cardiovascular risk
Adults
Usage of local leisure facilities and whether services meet the needs of the population
Access to local parks and open spaces
The Local Sustainable Transport Fund (LSTF).  The full impact evaluation of the programme is currently being carried out and will be finalised in early 2016
With a range of partners taking actions to increase physical activity – this may not be co-ordinated or the impact being monitored
The level of unmet need needs to be balanced with evidence of improving outcomes and value for money
A number of current commissioned services perform well to target and some exceed target. Other services like best foot forward and cycling for health through ridewise have not met targets for 2014/15.
Mental Health and Wellbeing
People with poor physical health are at higher risk of experiencing mental health problems.
Services should integrate prevention, mental wellbeing and lifestyle modification throughout a person lifetime.
Recommendations for consideration and commissioners
Ensure Health and Social Care staff deliver evidence based messages and that "Physical Activity recommendations for health" are used to promote consistent messages concerning physical activity levels
Frontline Sport and Leisure staff have access to training and CPD assessment in the promotion of physical activity
Reduce sedentary rates at nursery and at home by education of families and frontline staff of the importance of active play
Use transition periods from primary to secondary school and on to further education as key opportunities to promote active travel behaviour as part of increasing travel independence
Access to high quality PE and monitored as part of local Education Improvement Strategies
Remove barriers to physical activity amongst girls and young women and monitor the outcomes of This Girl Can strategies that have just started
Ensure activities for teenage boys are provided and promoted
Target small-scale infrastructure improvements (e.g. walking and cycling routes, street lighting, cycle parking) in areas where communities have low levels of physical activity to create safer walking and cycling environments allowing people to walk and cycle as part of their everyday lives.
Ensure active travel options are at the forefront of transport plans and are targeted in areas where low physical activity exist
Commission physical activity services for mental and physical health conditions with equal access for service users with a disability
Review the evaluation and share learning regarding successful interventions for promoting active travel from the Nottingham Urban Area Local Sustainable Transport Fund programme
Continue to target and engage inactive people from the priority groups – people >65 years, BME communities, people with disability and long term conditions using the health hub as a central point
Signpost the use of healthy change hub as a central point for lifestyle services and encourage increased use and link with Community Smarter Travel Hubs activities to support travel behaviour changes
Carry out local assessment of the physical activity on referral schemes during the healthy lifestyle review.
Increase the range of options for maintenance of physical activity on completion of the 12 session course, for example subsidised membership at a wider range of facilities and promotion of parks and open spaces
Incorporate the promotion of physical activity in management of medical conditions and consider increasing provision of physical activity in care pathways
Brief interventions training in physical activity provider contracts
Encourage business to have policies that provide facilities to staff to use active travel and encourage physical activity in the workplace
Encourage schools and colleges to provide facilities for staff and students to use active travel and encourage physical activity
Ensure equal access to opportunity and services for physical activity for disabled people